SOFA BEDS: LET'S CHOOSE THE CONVERTIBLE SOFAS
Sofa beds are an effective solution for versatile interior décor, not only when your guests come over but real beds when square footage is limited.
Myths to be debunked, sofa beds  have a reputation for being the least comfortable of the sofa types and esthetically neglected.
The research and expertise of Doimo Salotti have brought the company to specialize in the convertible sofa industry in order to offer products in step with the latest market trends, comfortable and perfectly efficient in both uses. Few simple movements to get effortlessly a cozy bed is the convertible solution when the fabric sofa meets the bed mechanism with electro-welded bed base.
The advantages of a sofa bed are various;
Easy opening and closing. A practical handle positioned among the back cushions will help in the opening operations.
All the elements remain anchored to one another
Each element has a double function in order to ensure the best final comfort
The sofa is comfortable, " there's a bed but you can't see it"
From sofa to bed mode you do not have even to remove  the back cushions, in fact the backrest remains anchored to the structure revealing  two clever compartments for the bed pillows.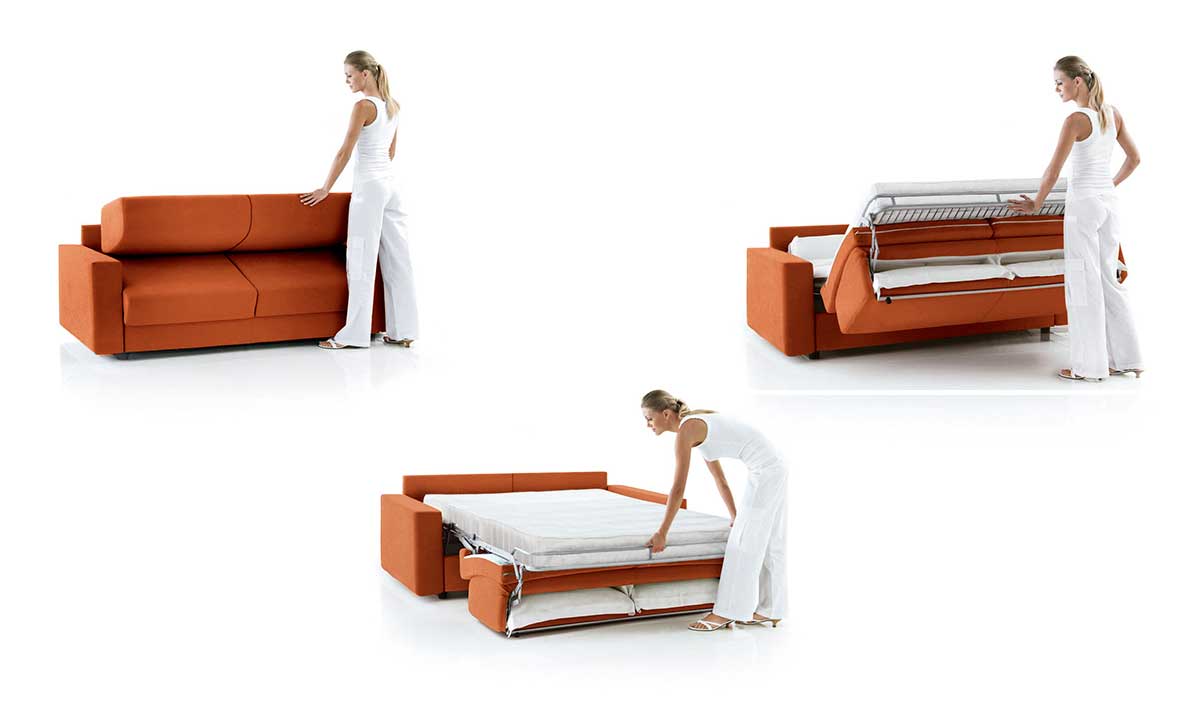 The sofa beds characterize themselves by ornate details, stylish choices and by the integrated type of mattress. An example?
Magnus
Elegant and refined sofa bed.
Its distinctive trait is the round sinuous shape of its armrest oriented towards the seating. The structure offers a mattress 17 cm high and a practical handle hidden inside the back cushions.
Marshall
The thick and welcoming sofa bed.
Thanks to its ratchet mechanism which easily adjusts  to the perfect back height , relaxing is ensured whether you are sitting or lying down, for example while watching television.
Moore
Moore is the ergonomic sofa par excellence.
It bestows a thin armrest and curvy shapes,  ratchet mechanism of the backrest and a good modularity thanks to all its variants. Available as armchair bed (single bed), double bed with or without chaise-longue, which hides a pillow compartment to easily keep useful accessories for the night.
Thanks to the most advanced mechanisms the transition from sofa to bed in all models is not a problem anymore! Doimo sofa beds are a good omen for pleasant conversations during the day and restful dreams at night.