BUNK BED 15 BY DOIMO CITYLINE
Just a simple fix and the kids room will look bigger! The Bunk Bed 15 by Doimo Cityline is the furniture solution for growing families.
Doimo Cityline, always thinking about families and kids needs, designed a unique interior furniture solution with bunk bed. A simple and innovative solution that turns around the 15° of the bed inclination respect the wall. It makes the space even more functional. The stairs to reach the upper part fit in between the wall and the bed structure.
The angular space is exploited by an extremely capacious cabinet. All the aspects and functions of  kids rooms are interpreted under new shapes
A simple gesture well thought out, especially for small rooms, It fits more needs furniture:
15 Mini, the smallest solution. The bed is inclined by 15° with a small wardrobe (total encumbrance 142×302 cm).
15 Midi, with the same bed inclinations and a more capacious wardrobe cabin (total encumbrance  142×335 cm).
15 Maxi, the bigger solution. The bunk bed remains in the same position but the wardrobe widens (total encumbrance 158×302 cm).
Versatility and multifunctionality at the heart of all design choices. Bunk bed 15 is designed to be a model growing with the families and their needs, it's forms and functions can evolve on time. The lower part of the bunk bed can be dedicate to: single bed, double bed, cot, desk or sofa place.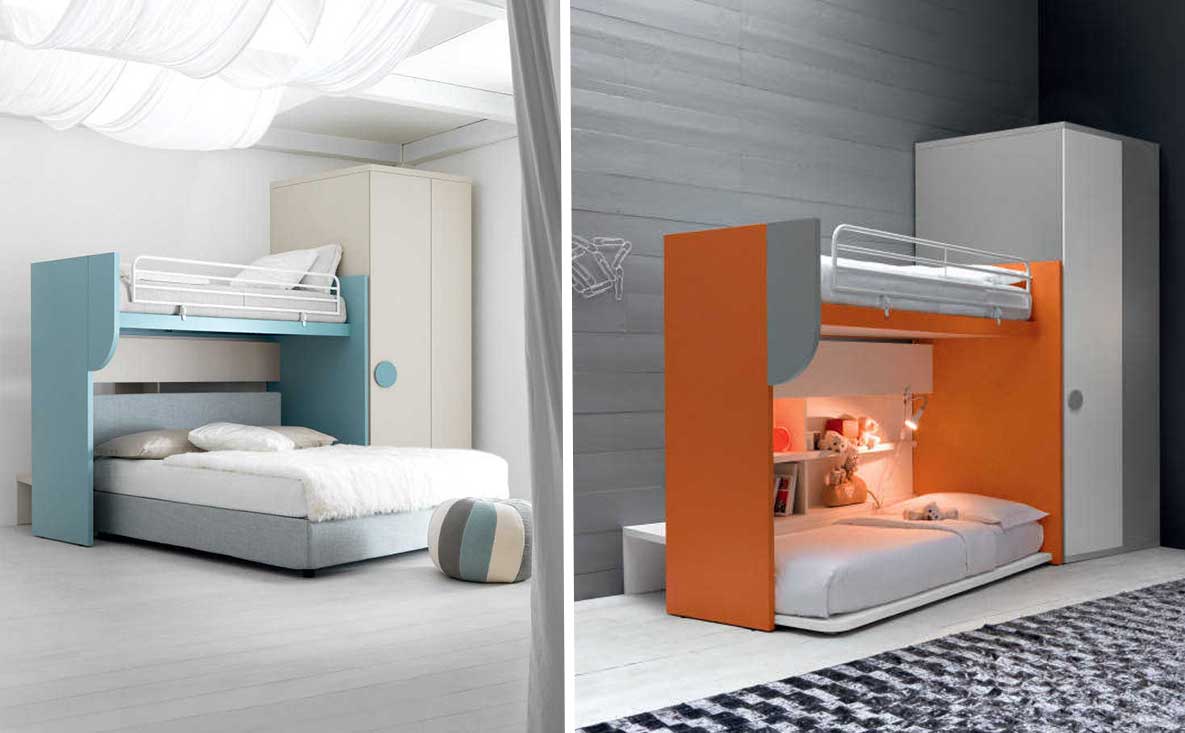 Doimo Cityline furnitures are designed to offer comfort and quality. The bunk bed 15 is the expression of wanting to seek innovative solutions and save space, finding new solutions in furniture. All the elements that compose the structure can be produced on custumers wills
Discover more on Doimo Cityline